Welcome to my post! Today I wanted to share my experience with the new Royal Shakespeare Company stage adaptation of My Neighbour Totoro, the animated Studio Ghibli film. 
Slightly Obsessed
My Neighbour Totoro was the first Studio Ghibli film I ever saw at around 9 years old, and I instantly fell in love. I've loved every Studio Ghibli film I've seen since then, and one day I want to watch every film they've released, but My Neighbour Totoro will always have a special place in my heart for introducing me to Studio Ghibli and especially Hayao Miyazaki's imaginative and magical worlds.
So of course, when I heard about the new play based on this film, I had to go. I actually found out about it on Tiktok around May. There was an amazing offer for young people where tickets were £10, so I booked tickets for my boyfriend and I to go on a day in December. It seemed like years away but eventually came the day to go to London!
Can I Survive the Trip There?
The most difficult part was actually getting there. By some miracle, we'd picked the only day without train strikes that week, so that made it a little easier. However the trains were still impacted and there's usually some kind of delay anyway, so there were a few issues. Luckily, I always worry about being late so I'd booked an earlier train and I got there 15 minutes before the show started! Sadly not enough time to get lunch but I was happy just to be there. The way back was worse because certain lines on the tube weren't running and it got a bit overwhelming as I wasn't used to the route, but I made it there and back which is all that matters!
The Experience
Against all odds, we made it to the play! It was at the Barbican Centre, which is about half an hour from Victoria and about 10 minutes from King's Cross on the tube. We didn't realise, but the day we'd booked was actually the relaxed session, which meant there were a lot of families and children so it was a little noisy, but also a lot of great accessibility options such as subtitles on the edge of the stage (you might be able to see on my picture above) and a BSL interpreter who was actually integrated into the show which was amazing.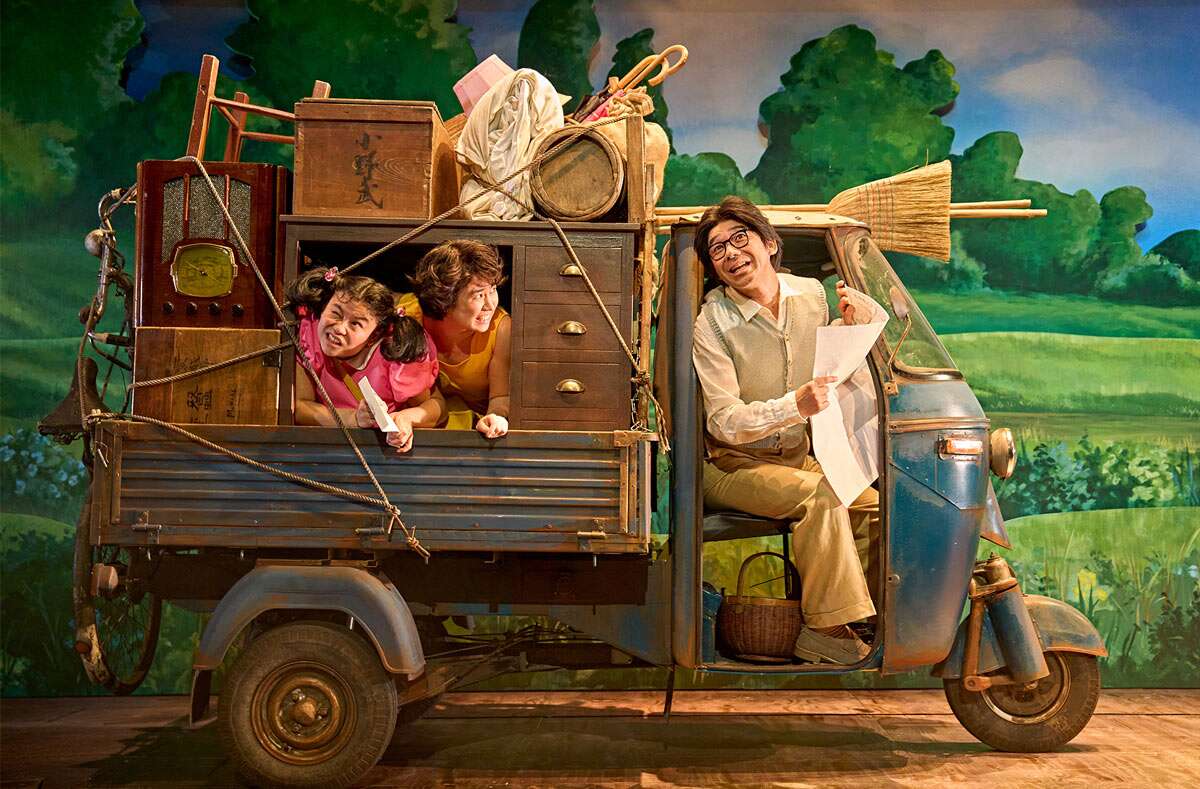 As for the set design, it was just amazing. I had no idea how they were going to recreate Totoro or the nature scenery, but everything came to life after the curtains opened. They had working bikes and carts, a treetop in the background for the live band and singer (who were so talented), intricate cut-outs and a constructed house that opened up and spun around, so there was never a dull moment with the scenery. The star of the show though (except from the actors) was Totoro of course! There were stage helpers dressed in black who were handling the puppets (like the soot sprites and the mini totoros, and the cat bus which was a big blow up puppet). They also handled Totoro, who was a huge puppet. There were people on the sides and inside it to make him expressive and move more freely, even for the tongue! It was very immersive and I admire their creativity so much.
The acting was impressive too. I couldn't help but think how tired the actors playing the children Satsuki and Mei must have been, but they were so energetic throughout the whole play! I thought the dad did an amazing job too, and the other characters also helped out on stage when they weren't performing, so they did so much as well. The actual story was very faithful to the film, just a little longer for the music, transitioning between scenes and maybe more dialogue. The last half did go on a little too long, and I felt like they could have stopped at the iconic raining scene where they're waiting for the bus, but apart from that I loved every second of it!
More Details
I'm aware that a lot of people reading might not be from the UK, but if you are interested, here are some details. This is the website for more information about the play, and everything is sold out in advance now but they do have tickets available each morning to buy for that day, up until the end of January. If you're thinking about going I highly encourage you to, it was an amazing experience as you've heard! Hopefully they do more adaptations like this for different places around the world because I wish everyone could see it!
---
Thank you for reading! Do you like Studio Ghibli and have you seen any plays recently?
—ella♥
♦ goodreads ♦