Welcome to another post, today I am writing a spoiler-free review for dark fantasy book The Sword of Kaigen. It took all of my willpower not to turn this into a 5000 word essay ranting about how much I love it!
The Sword of Kaigen
☆☆☆☆☆
Key info:
613 pages
high fantasy
self published
standalone
content warnings: violence, graphic death, suicide, rape (off-page), depression, abuse
Synopsis (see goodreads for the full description):
This Japanese-inspired military fantasy centres around the Matsuda family, a legendary ancient warrior household with the ability to control water and ice (to put it simply). 14 year old Mamoru begins to question his allegiance to the Kaigenese Empire when an outsider visits, and mother Misaki struggles to suppress her fighter nature and regretful memories. But when an invasion threatens their province, both must decide what and who they are fighting for.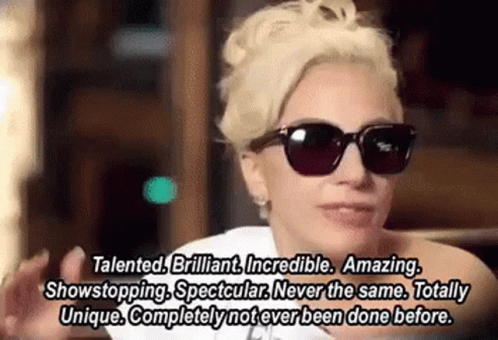 This Lady Gaga gif has never been more relevant. The Sword of Kaigen is a wonderfully heart-breaking book that left me emotionally drained and wondering where this has been all my life. It has been described as a mix of The Poppy War and Avatar: The Last Airbender. While I can't back up the Avatar claim (I might be the last person on Earth to not read/see it), to me The Sword of Kaigen is the perfect blend of The Poppy War and Circe. It's not just a story of war, but also motherhood.
I have to confess that the first 10-20% was hard to get into. While I quickly grew to love the characters and world, the new fantasy terms threw me off at first. Consulting the glossary definitely slowed down my reading time, but it was worth it for the rest of the book. I even thought that I would end up rating it 3 stars, but please give it a chance to blow your mind and break your heart like I did. You won't regret it.
What this book did really well was balance. There was a balance between fighting scenes and characters like no other. The fighting scenes were so detailed and captivating, and their powers were seamlessly blended into normal combat. At the same time, it was very dark and gruesome, and actually forces the reader to dwell on the impact of every death. It gave a haunting sense of the fragility of our lives, even these almost superhuman characters. And these characters were my favourite part of the whole story. I felt deeply connected to the main characters, and it physically hurt me when they suffered. The character development they (and side characters) go through is incredible, but Wang doesn't make their arcs unrealistic: I appreciated how one character was given the beginning of a redemption arc too.
In terms of structure, the dual narratives and flashbacks worked really well for me. Again, it balanced the story and made sure we wouldn't get too sick of one character (not that I could), while really exploring their psychology. While character backgrounds were flawlessly integrated, there was some info-dumping on country relationships, like a history lesson scene. However, this didn't annoy me too much as the rest of the world-building, like their powers, was explained more subtly.
Wang makes an interesting choice to put the climax half-way through the book, so the fallout of war is just as important as the actual event. The story went in a very different direction to the one I expected, and let me warn you now that it does not follow a similar course to The Poppy War's constant warring. There are lots of similar themes, like the duty to your empire and hometown. Do you still fight for a government that no longer cares about you? What is your personal motivation to fight? But, like Circe, it explores the destructiveness of regret, and the power of taking ownership over your life. This slower pace also allowed for more exploration of the impact of war, from physical destruction, to grief and depression, to the process of rebuilding villages and relationships. Although the book is over 600 pages, it is amazing just how many topics are covered in detail in this time, while still retaining a strong plot.
I can't recommend The Sword of Kaigen enough, and I know I won't forget about this world anytime soon.
---
Thanks for reading!
—ella♥