Welcome to my October TBR post! I'm participating in the trick or t-read-athon: here is their twitter and announcement post. 
The Prompts
++ instead of the prompts, you can also choose the figure in the title i.e. for the witch prompt you can choose a book with a witch in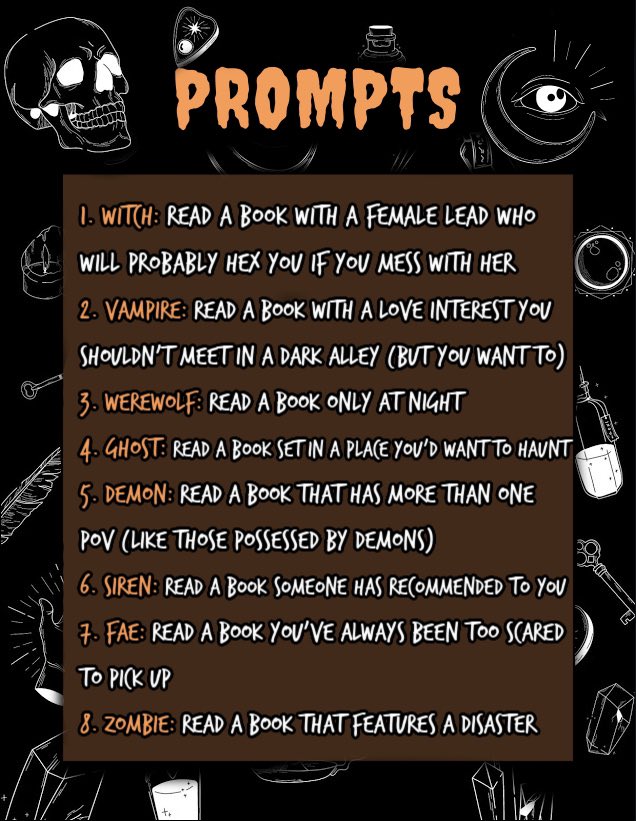 Witch: female lead who will probably hex you if you mess with her
Mexican Gothic: I don't know what the main character is like, but the readathon's google doc suggested Mexican Gothic for this prompt so I'm trusting it! I've also been putting off reading this until spooky month so I'll finally be able to understand the hype.
Vampire: love interest you shouldn't meet in a dark alley (but want to)
Crooked Kingdom: Kaz Brekker duh. I want to read this while I still remember what happened in Six of Crows and hopefully it will be as good!
Werewolf: read a book only at night
If We Were Villains: I mostly read books at night anyway, but this dark academia book seems like it has the perfect atmosphere to read at night.
Ghost: set in a place you'd want to haunt
Cemetery boys: I chose this book because of the ghosts involved not really the actual prompt because I don't know where it's set yet. This is another one booktube/bookstagram has been promoting a lot so I'm happy to get my hands on a copy.
Demon: multiple POVs
Vicious: I meant to read this last month but sadly I didn't get to it oops. This October I will though!
Siren: recommended book
The Long Way To A Small Angry Planet: This wasn't specifically recommended to me, but Brightness Katy Reads recommended this in her Favourite Fictional Friendships video. 
Fae: a book you're scared to read
Sword Of Kaigen: I'm more excited than scared to read this, but everyone who's talked about it has loved it so much so I'm scared that I won't. I'm sure it will be great though and I can't wait to see why everyone loves it.
Zombie: features a disaster
The Space Between Worlds: Does this count? The disaster is that her multiverse doppelgangers are dying mysteriously, so it's not a physical disaster but I think it loosely fits the prompt soo I'm reading it!
---
I doubt I'll be able to finish this list, but I also have Pachinko if I do. So that's 9 books on my October TBR list, which is quite ambitious but we'll see how it goes!
---
Thanks for reading. what are your October reading plans?
—ella♥